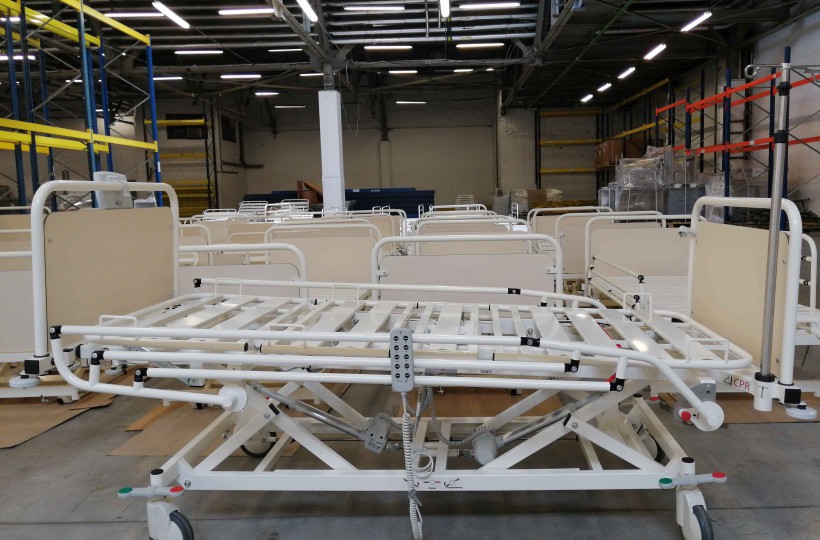 Changes in HORECA sector due to COVID-19
As we all know it, COVID-19 has changed the way we live and the world view in a matter of seconds. Unfortunately, the first ones to experience its destructive power were HORECA (hotels, restaurants, cafes) and their service providers. Needless to say, the sector had to be one step ahead in the process and adapt quickly.
Variety of possible tendencies
Today we are held at ease compared to three months ago when the virus almost literally stopped the world, or economies to say the least. Currently, the businesses are moving ahead by slowly returning to their normal pace. Nonetheless, a large part of the businesses were forced to close, shrink or search for new ways of staying in the market by offering new services and products which were not produced before.
One of such companies is "Novameta", based in Lithuania. The company specialises in professional stainless steel kitchen's equipment production.
According to Novameta's CEO Mindaugas Jonuškis, the crisis was unexpected. Even when China's situation dangerously worsened, Europe remained unalarmed. In addition, the first quarter of the year was one of the most successful periods in the history of the company.
"The virus severely hindered the one sector we specialize in. Restaurants and hotels started to close rapidly in the beginning. All of our projects were either annulled or postponed. Notwithstanding, we work in over 20 countries and, seeing different tendencies and needs, we could diversify our activities and income to avoid a crash.
For example, it's been calculated that in Poland, only 1% of HORECA-specialised businesses have made a come back to their previous working level. Around 67% ceased to work whereas 32% reduced their output. Meanwhile, Sweden has not announced quarantine at all. Thus, even though on a smaller scale, but the projects continued in the country.
The United Kingdom, similarly to Sweden, were rather lose about restrictions compared to the rest of Europe. When everyone was closing professional kitchen projects, our partners in the United Kingdom did not scale down. On the opposite, they were our main buyers. Nonetheless, the situation has turned upside down.
Nowadays, the number of purchases begins to grow as the quarantine restrictions are starting to ease up. Here, I could firstly distinguish Scandinavian countries. For example, one day after Danish quarantine was lifted our clients from Denmark informed us about the need of hygienic products which ensured the safety of children, pupils and students who are returning to their kindergartens, schools and universities.
Each market had different challenges at different points of time respectively ending in different solutions. We just had to adapt", says M. Jonuškis when he presents the situation in the HORECA sector.
Started the production of products insuring hygiene in the public spaces
In the search of new opportunities and analysing market tendencies, Novameta has turned their attention to health sector solutions and shifted part of its capacity to producing health products.
"Seeing government's recommendations and sensing what we and our clients are lacking, we have decided to offer a contactless line of products, such as mobile handwash stations and stands with hand sanitizer dispensers which ensure hygiene and hinders the spread of the virus.
The most important things in design and presentation of these products were speed and team-oriented thinking. Ideas for new products came up in a few days, and over one night it was already made into promotional content. In the following morning, our sales team offered new products to our clients worldwide. Today these decisions generate a large part of our income and allow us to stay optimistic during the difficult period of our lives.
Similarly to hygiene ensuring products, demand for medical beds increased as well. Luckily, our sister company "Taneta" specialises in the latter. Subsequently, we decided to help by producing part of the beds.
To proceed successfully, we had to make major technological changes in our factory, recalibrate our equipment, and respectively teach our employees due to extreme differences between our usual products and the beds.
We ensured the safety of our employees, social distancing and met other requirements by expanding our space which was rented out before. Again, the decisions had to be made fast as the product itself was essential and needed rapidly. Successfully implemented projects and conquered challenges motivated us to focus even more and search for new opportunities", says M. Jonuškis.
Hopes to return
Even though today raises more questions than it gives us answers, a large part of European businesses see this crisis as a temporary pause which should be overcome faster than the crisis of 2008.
"Most of the businesses, even though they have reduced their normal output to 15% or 5%, still hope that the losses won't be too significant and they will be able to come back to their normal routine.
We often see that our clients plan their purchases for autumn. However, the market is still unstable. Yet again, the slow return of people to the restaurants, travel restrictions and increased sense of health safety signifies that the recovery will not be as fast as everyone hoped for.
On the bright side, we see that lower restrictions result in the rise of requests for projects. In addition, public sector proceeds with projects that were started before the quarantine.
To conclude, during this time health sector projects have become an important part of Novameta's life. This is also an opportunity to contribute towards a fight against COVID-19 virus by designing products which hinder the spread.
So, we with our sister company "Taneta" decided to give part of the beds as a gift to Lithuanian hospitals. We hope that even though small, it is needed help for our country", states "Novameta" CEO M. Jonuškis.
Back