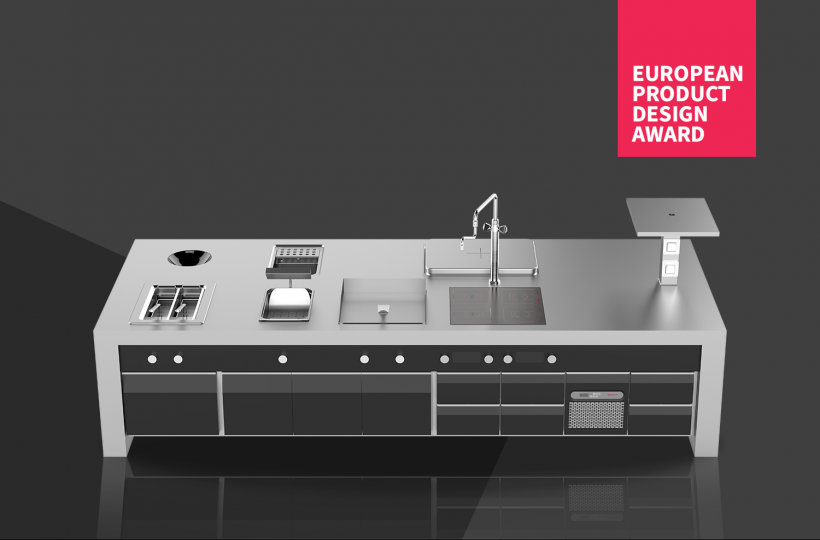 Lithuanian product recognised at international design competition
Novametas' new flagship product, the height-adjustable cooking island has been recognised at the international design competition, European Product Design Award (EPDA), where it won the highest design award.
According to Mindaugas Jonuškis, Managing Director of UAB Novameta, a manufacturer of non-standard stainless-steel equipment for professional kitchens, its Bespoke cooking island suite which has been in development for the last two years and was introduced to the market only this year, stands out because of its efficiency, ergonomics and unique design.
Jonuškis added "We are very pleased with this international recognition" We have been working on this new flagship for the past two years investing more than €200,000 and putting our heart and soul into it. , further adding, "its really nice to have our solutions appreciated by professionals in the field"
When designing this product it was very important to us that the island as well as its design were practical, comfortable and ergonomic.
The cooking island was designed to help kitchen professionals to simplify their daily routine and to meet the most demanding gastronomic challenges meaning that the chef is able to choose all the necessary and desired components. The island suite can be personalised down to the smallest detail – dimensions, colours, logo cut-outs, etc.
The Novameta cooking island is also distinguished by its height-adjustable function which allows several different teams to work comfortably. This aspect is highly appreciated by chefs says Jonuškis.
According to Jonuškis, the design of the first professional kitchen island was focused on maintaining the integrity with other equipment products whilst looking for unique solutions.
The design of products is distinguished by its minimalism, clear shape and lines.The new flagship suite also maintains the same Novameta design integrity. Jonuškis also added, "Novameta island suites can be complimented with a ventilation hood in the same style, of which not many manufacturers can provide that".
Novameta plans to produce several dozen islands in the first year, some of which will be destined for the Lithuanian and International markets.
Back