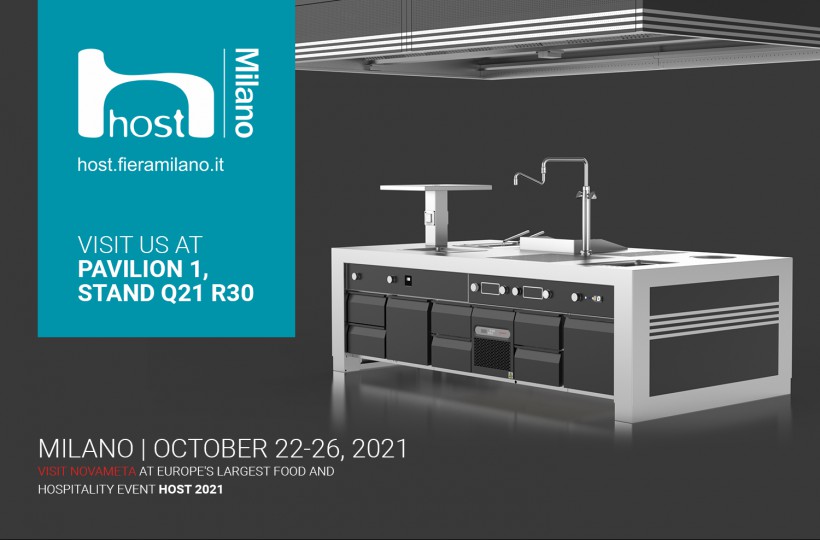 Novameta will showcase in the prestigious HOST 2021 exhibition
Manufacturer of customized stainless-steel equipment for professional kitchens, NOVAMETA will be showcasing unique solutions to highlight their expertise for the fifth time in a row at Europe's largest food and hospitality event, HOST 2021, with over 2200 exhibitors from 55 countries on the 22th – 26nd of October.
On the 200 sq. m. NOVAMETA'S stand visitors will explore several different areas with solutions tailored to them.
In the bar area, NOVAMETA will showcase Front and Back counters with individualized solutions for coffee houses, fast-food restaurants, bars, and cafes. In the back of the kitchen, the manufacturer will be highlighting three customized solutions: modular construction Neutral Island, 5 m long preparation table with highly customizable table top and a wide variety of frame structures, and its new Flagship product – fully customizable NOVAMETA COOKING ISLAND.
It's an all-in-one unit, combining a selection of equipment of the chef's choice. Unique design, attention to detail, and craftsmanship were combined to create a long-lasting and easily maintained the high-end product. It's a must-see!
You can visit the Novameta stand in Pavilion 1, Q21 R30.
Back